Powder Coated Steel Bathroom Partitions
Durable & Economical Protection
Powder Coated Metal
Toilet Partitions

The powder coating and galvanized steel on these partitions provide quality and economy. The finish is resistant to wear, fading, and scuffing. It is easily cleaned and wiped dry.
Starting from $549.99 Per Stall Price*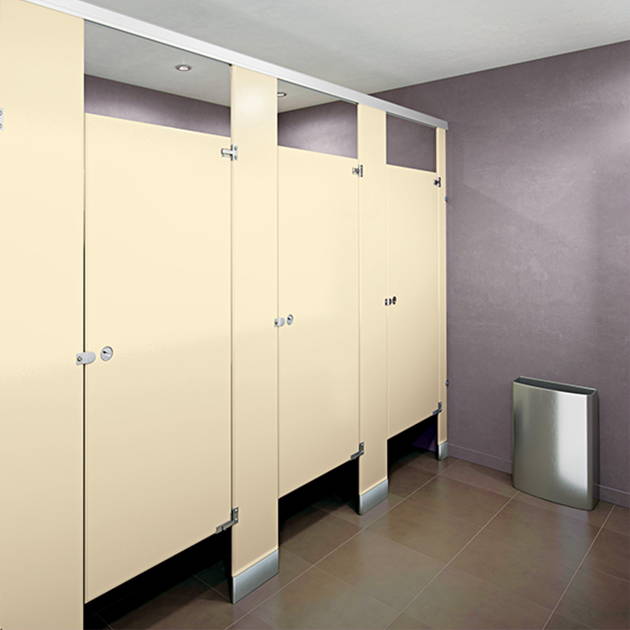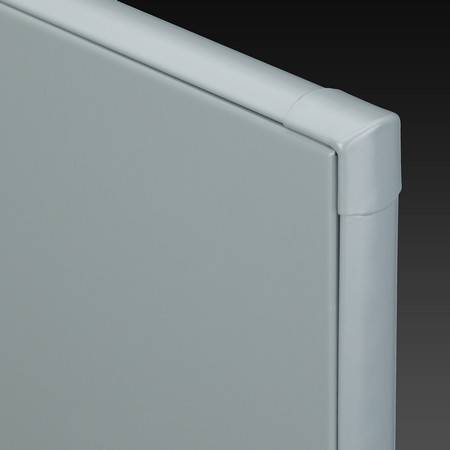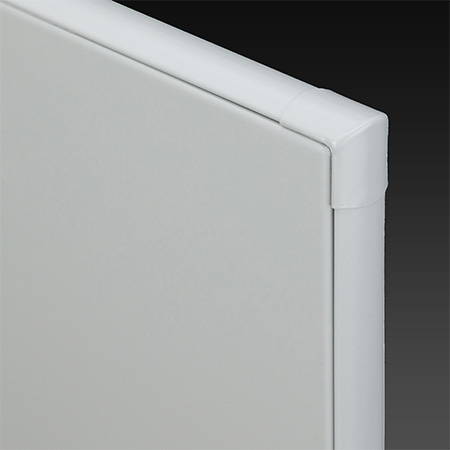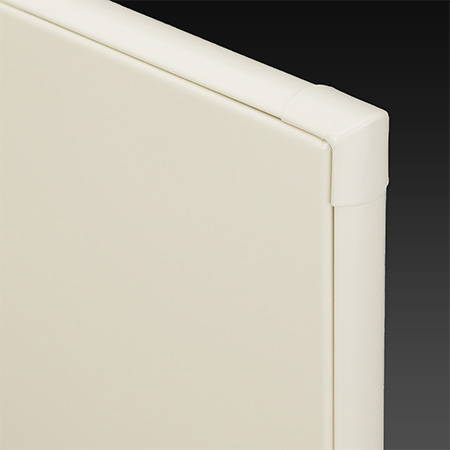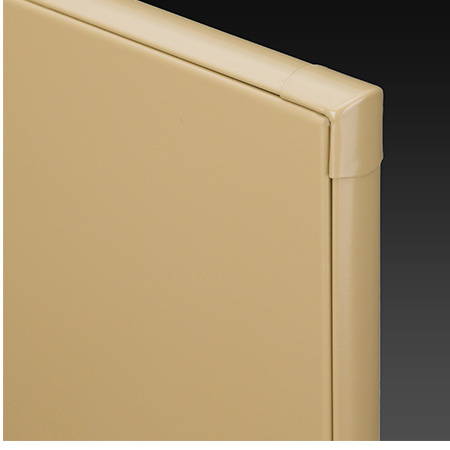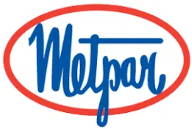 Metpar Powder Coated Metal
Toilet Partitions
Powder coated steel toilet partitions are the industry standard and are the most popular choice for new construction or remodeling of restroom partitions due to their durable quality and economical pricing. The powder coated finish is electrostatically applied over galvannealed steel, which protects against corrosion and provides a proper base and adhesion for a durable and smooth powder coated finish. This surface is three times more resistant to humidity and salt spray than solvent based painted finishes and it is highly resistant to stains, scratching, scuffing, and corrosion. With a low noise level, powder coated metal toilet partitions are ideal for high traffic areas such as schools, churches, and libraries. The lightweight metal product provides for ease of installation. It is easily cleaned and is available in a large variety of colors to fit any new restroom construction or renovation.
---
---
Construction features 1" thick doors and panels, 1-1/4" pilasters, constructed of two sheets of galvanneal steel, formed and cemented under pressure to a honeycomb core.
All edges are finished with 20-gauge interlocking steel moldings. Corners are welded and finished with pre-formed stainless steel reinforcements.
Doors feature steel reinforcements to secure hardware items, with "in-use" indicator latch.
Rust inhibitive coated material is painted with multiple coats of epoxy-hybrid powder, applied electrostatically and baked until cured.
Standard wall fittings are chrome-plated die-cast zamac.
Powder coated is the most popular material as a result of its economical price, lightweight material, and long-lasting powder painted durable finish.
The material has a wide range of standard & custom color options, multiple hardware options, and various premium upgrade offerings.
The material can be used in all construction styles and is highly customizable and versatile, catering to architects & designers who have that extra drive for aesthetic appeal & imagination.
Class A fire rating.
Easily cleaned & maintained.
Lightweight material allows for ease of installation, material handling, and lower freight costs
Despite the lightweight nature of the material, powder coated partitions remain highly durable and strong.
Powder coated material has the highest return on investment when considering up-front price with longevity and performance of the material.
Many architects, designers, and contractors select powder coated material for exactly this reason.
The industry standard for projects on a more cost conscious budget.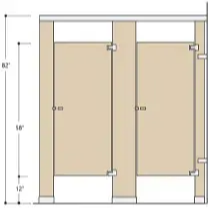 Standard series includes 58" high doors and panels that are mounted 12" above finished floor. Additional options include, no-sight doors (privacy strips) and full-length continuous brackets. This series is the industry standard.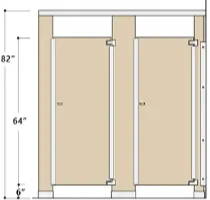 Dorian series includes 64" high doors and panels that are mounted 6" above finished floor. Full-length continuous brackets are included. Additional options include no-sight doors (privacy strips). Enhanced level of privacy compared to standard series.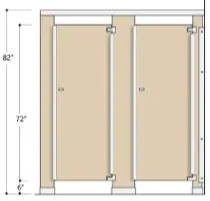 Dorian Max series includes 72" high doors and panels that are mounted 6" above finished floor. No-sight doors (privacy strips) and full-length continuous brackets are included. Head to toe king of ultimate privacy!
Toilet Partition Mounting Styles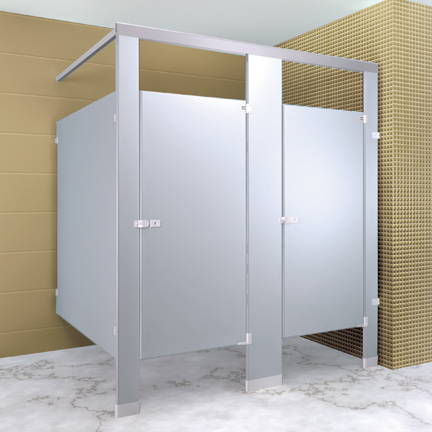 Created for areas where high strength is required and installation considerations prevent other toilet partition options. Headrail is used for additional strength. Most popular style.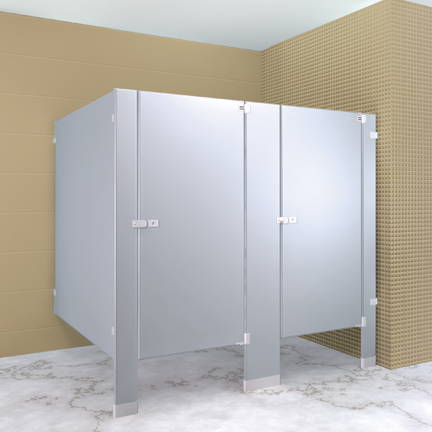 Floor mounted structure is ideal for restrooms with concrete floors. It provides a consistent appearance across the top of panels and pilasters for a modern look. Headrail is not required.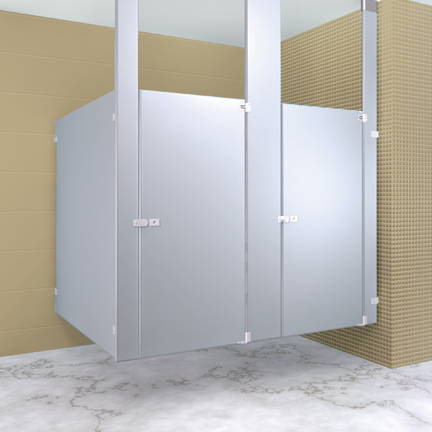 This style provides for unobstructed floor space beneath the stalls. Floor to ceiling pilasters can be added to provide maximum strength and durability.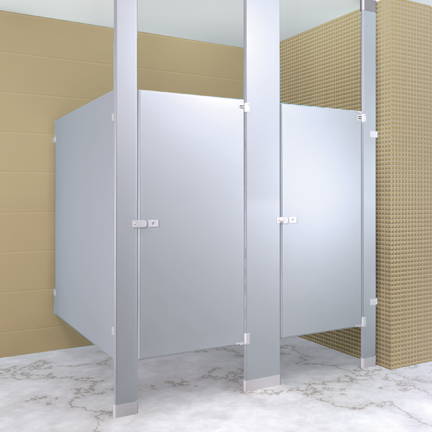 Recommended for rooms with low to medium height ceilings where additional stability is desired. Maximum recommended floor to ceiling height of 96". Requires ceiling reinforcement.

ASI Global Powder Coated Steel Toilet Partitions
For over 50 years, ASI Global Partitions has been one of the most specified manufacturers in the industry, offering a full line of toilet partitions, a variety of mounting styles, color options, and recycled content that may help your project achieve its sustainable building objectives. ASI Global Partitions utilizes an efficient manufacturing process focused on continuous improvement, enabling the company to deliver finished products quickly.
ASI Global Partitions' products also provide the perfect solution for projects seeking to achieve LEED green building certification. While individual products do not receive certification, those products can contribute to the overall project's certification, functioning as part of a system. ASI's partitions are capable of contributing to the recycled content, regional materials, rapidly renewable materials, certified wood materials, and low emitting materials categories.
The powder coating and galvanized steel on these commercial bathroom partitions provide quality and economy. The finish is resistant to wear, fading, and scuffing. It is easily cleaned and wiped dry.
Toilet Partition Mounting Styles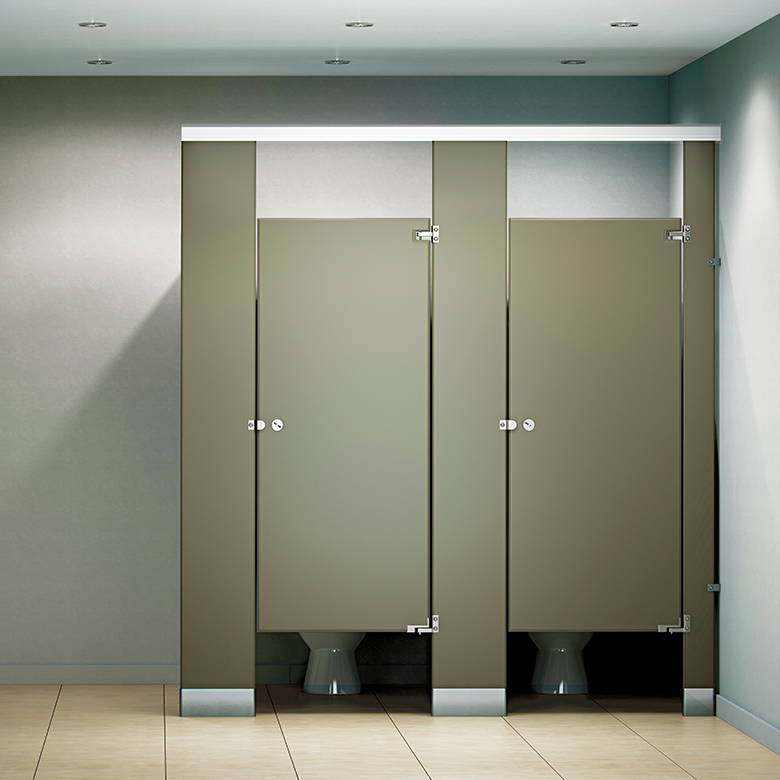 This economical and sturdy mounting style installs just about anywhere. An anodized aluminum anti-grip head rail secures partitions firmly to the walls.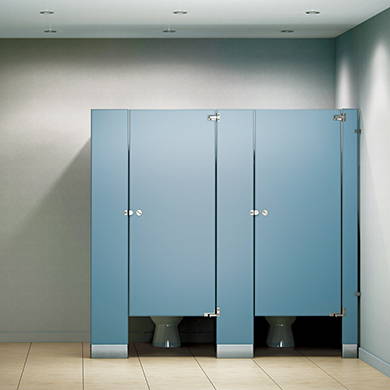 Simplified construction permits ease of installation anywhere. For concrete floors only: 2" minimum penetration into floor required.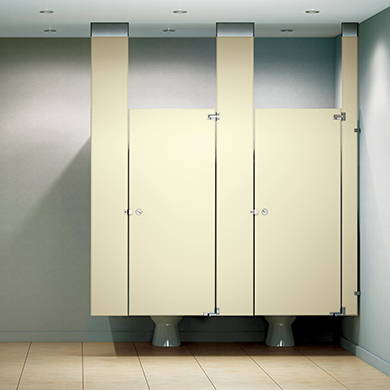 When used together with wall-hung fixtures, the entire floor is accessible for efficient cleaning. Structural steel ceiling supports are necessary to assure proper installation.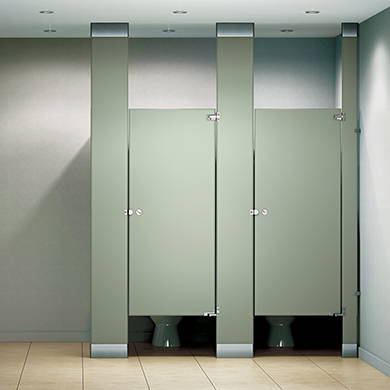 This mounting style is extremely stable and durable as pilasters are anchored into both the concrete floor and the structural ceiling for maximum support.