Trusted Construction Specialty & Architectural Product Solutions
Commercial Washroom Products, Interior Partitions, Industrial & Commercial Doors, Lockers & Storage, Construction Specialty Products, & Architectural Products
At Specialty Product Hardware (SPH), we are leaders in the Canadian Commercial Construction Specialty & Architectural Products and Supplies industry. From Washroom Toilet Partitions, Glass Office Partitions, Operable Partitions, Industrial & Commercial Doors, Lockers & Storage Products, Commercial Washroom Accessories, Plumbing Fixtures, Specialty Architectural Products, Commercial Specialty Products, and more! Our Commercial Specialty & Architectural Product consultants are here to get your project off to the right start, with award-winning Commercial Specialty & Architectural Product Service and Installations.
Ontario's Leading Construction Specialty & Architectural Supply
Toronto | Barrie | GTA | Windsor | London | Niagara Falls | Vaughan | Mississauga | Richmond Hill | Pickering | Ottawa | Sudbury | Collingwood
Top Rated Commercial Washroom Products
View all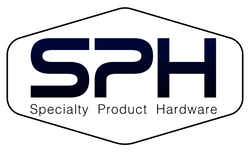 We are Laser Focused on Delivering the Commercial & Architectural Products you need - When and Where you need it!
With Clients across Canada and Connections around the World - Specialty Product Hardware (SPH) is well suited to get you the best product for the best price. Our broad scope helps meet the needs of healthcare, education, office, and retail buildings, as well as airports, stadiums, government offices, cultural centers, and hotel/restaurant operations.
Canada's Leading Division 8 &10 Specialized Commercial Architectural Product Supplier
Specialty Product Hardware Ltd. is a Major Canadian Distributor, Supplier and Installer of Commercial Division 10 and Architectural Products such as Commercial Washroom Accessories, Washroom Partitions, Lockers & Storage Products, Glass Office Partitions, Operable Partitions, Vertical Bi-fold Doors, Moveable Partitions, Security Grilles and much more!
We offer the best rated Brands in the North American Division 10 Industry today - from Metpar Washroom Partitions, Scranton Products, All American Metal Toilet Partitions (AAMCO), Foundations, Frost Products, Dyson, Xlerator Hand Dryers, and much more!

Since our founding, we have continuously grown and evolved to meet our client and customer's needs in the commercial, architectural, and institutional sectors. Our competitive pricing, high standards of quality and safety have made us one of Canada's Leading Division 8 & 10 Commercial Architectural Specialty Product Suppliers. Our relationship with national, global Specialty Product suppliers and innovative product developers also ensures that we offer the most complete Specialty Product Line ups available in Canada.
We are Proud to offer Tendering / Estimation Services for Division 10 Products!
Throughout the years we have developed experience in School and Commercial Construction Division 10 Specialty Product Sales and have grown to be one of the largest retailers and distributors of Commercial Washroom Products, Architectural and Commercial Specialty Products in the Canadian industry.
We provide Division 10 Estimation Services on all size of Building Construction / Renovation projects from $1,000 to $20,000,000+ in size and our experienced Estimating staff will help you no matter the size of your project
Looking to submit your project for Division 10 Product Estimation?
Speak to a Division 10 Commercial Washroom Product and Architectural Specialty Product Estimator
Contact Us
Toronto / GTA's Best Commercial Washroom Partition Supplier
Specialty Product Hardware (SPH) is Ontario's #1 Toilet Partition Supplier and Bathroom Partition Installer based in Toronto, ON Area. Our Bathroom toilet partitions are designed and certified for use in all commercial, industrial and institutional facilities.
SPH Canada is proud to be one of the few Canadian Washroom Partition Suppliers that offer ALL 6 Major Partition materials. (Most companies only offer 2-3 styles MAX)
There are 6 main types of materials: Powder coated steel Partitions, Plastic Laminate Partitions, Solid Plastic Partitions, Stainless Steel Partitions and the most durable Colour-thru Phenolic Toilet Partitions and Black-core Phenolic Partitions.
Which kind do you need? SPH Canada offers supply and install across the Central & Southern Ontario Area including Toronto / GTA, Newmarket, Barrie, Hamilton, Niagara Falls, London, Kitchener, Cambridge, and St. Catherines  with FAST, EXPRESS SHIPMENT and delivery across Ontario and Canada. 
Specialty Product Hardware (SPH) provides the #1 toilet partitions Toronto, Barrie, Ontario and all of Canada can offer
Learn More
Fill out the Information Request Form below and one of our Product Experts will be in touch shortly!